Our Location
Trails End Irises is located at 3674 Indian Trail, on ten acres of property in the rolling countryside. We are approximately 7 kilometres east of Brantford and 15 kilometres west of Ancaster. Just a leisurely 20-30 minute drive are Hamilton, Cambridge and Waterdown.
NOTE: If using a GPS, your device might have us in either Hamilton, Ancaster or Brantford.
Courtesy of our grandson, J.T., and for those of you who are dedicated GPS users, the co-ordinates to the end of our driveway are: Latitude 43.200354 degrees; Longitude -80.155942 degrees
Happy Motoring !!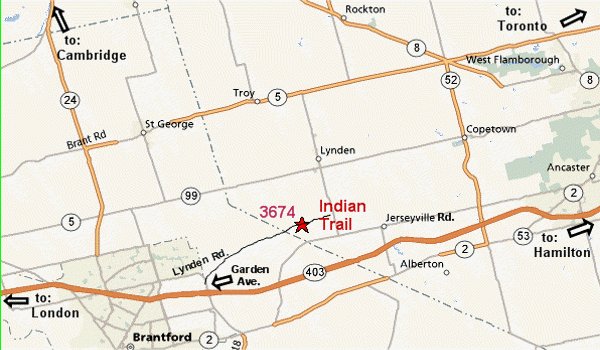 Ann and I enjoy welcoming visitors to our gardens. This year we are having our Open Garden Hours during the last two weekends of May and the first two weekends of June; the peak Tall Bearded bloom period. We will be open Fridays, Saturdays, Sundays and Mondays, from 9:00am to 5:00pm, starting May 18th to and including June 11th.
Outside the Open Garden Hours, we will be open by appointment only. Call ahead, (519) 647-9746, to make sure we are home and to set a time to visit. Feel free to bring your friends and family.
Maggie, our Old English Sheepdog, a.k.a. "Mrs. Mugs", has not been with us for just over a year now. She is with her great, great uncle Tonto, our previous Old English. We sorely miss her as do her buddies Casey (our Shelty) and Lucy (our cat). She was a sweet, gentle soul and had been an important part of our lives for 12 - 1/2 years. Our customers, friends and family miss her coming to greet them for a little pat on the head.
Casey, our Sheltie from Alberta, now has the greeter responsibilities. He is more vocal (but harmless) as he bounds about looking for the next squirrel to chase up a tree.